Thank you Aerogoddes!!♥ ♥ ♥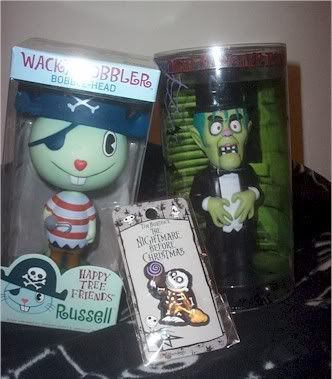 Russell from Happy Tree Friends Wacky Wobbler, Mr. Hyde from Mad Monster Party figure and an adorable Barrel of Nightmare Before Christmas pin!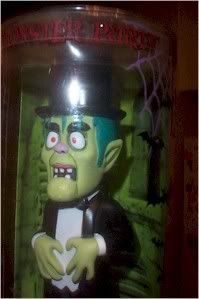 Check out Mr. Hyde, isn't he the cutest? He fits right in with my other toys.

And last but not least I received a Sara Belle original, this beautiful scarf!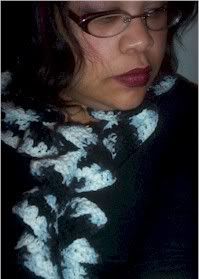 It's so soft and pretty, the ruffles make me feel girly and regal. I adore it! This gift caused quite a stir among my co-workers, one even sent for the building's crocheting expert so she could see it. All were impressed.

Thank you so much
aerogoddes for the sweet thoughtful gifts! You are a wonderful Spooky Santa indeed! ♥
I'm pretty certain that I was the only one happy to be at work this Christmas Eve because my ever-so awesome Spooky Santa package arrived! My co-workers were subjected to much *squee*-ing when I opened it, everything was so cool!